About Us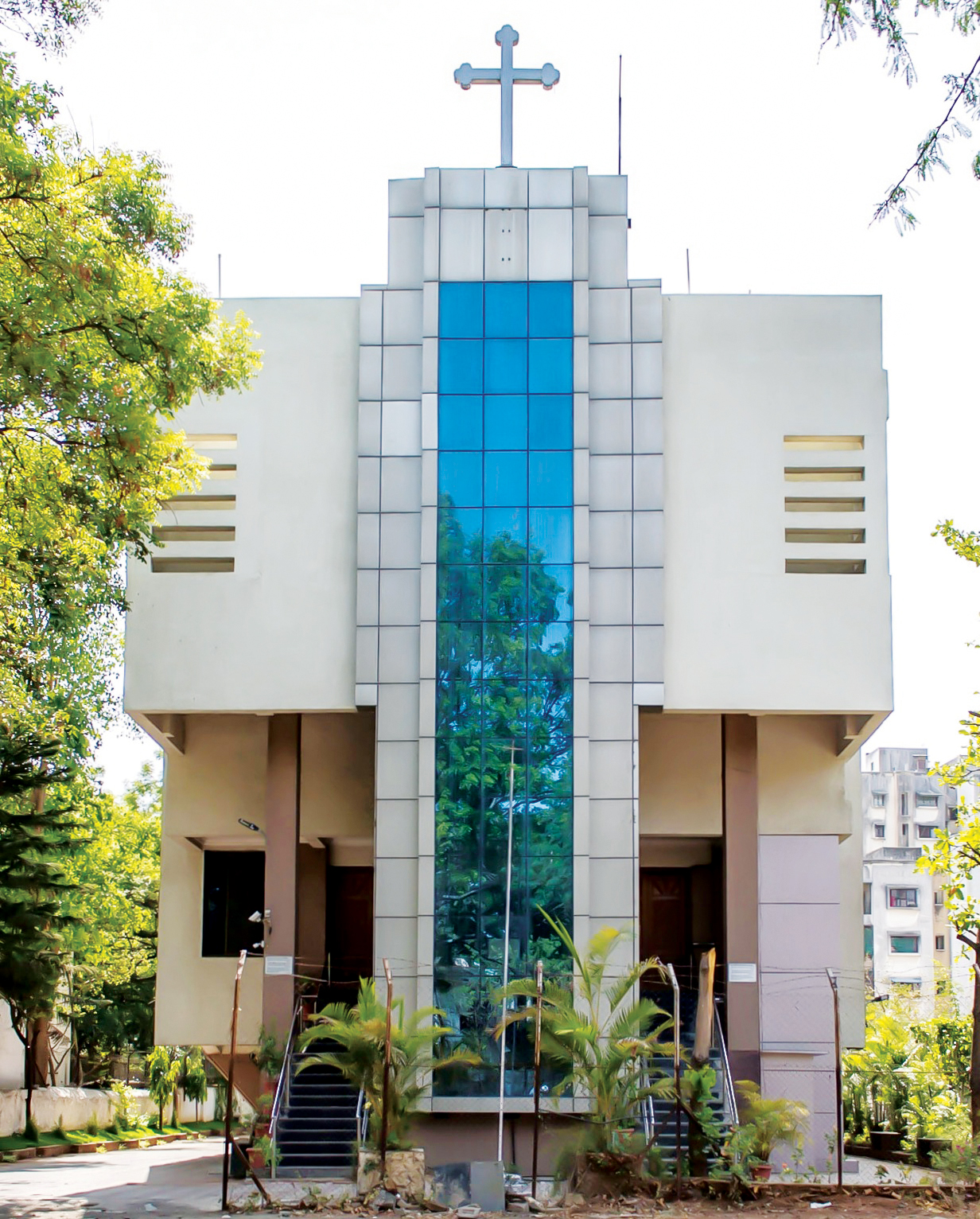 Matthew 28:18-20 (New King James Version)
And Jesus came and spoke to them, saying, "All authority has been given to Me in heaven and on earth. Go therefore and make disciples of all the nations, baptizing them in the name of the Father and of the Son and of the Holy Spirit, teaching them to observe all things that I have commanded you; and lo, I am with you always, even to the end of the age." Amen.
The Second World War shattered the world and scattered the people everywhere.Military and Defence Establishments offered employment to many. As part of theflow, several Christians from Kerala arrived in Pune for employment in theDefence Establishments viz. Military Engineering Services, Defence AccountsDepartment, Ordinance Factories and Depots. The influx gained momentum from1942 onwards which resulted in a sizable number of Kerala Christians arriving inPune seeking employment .They all had a strong Christian upbringing and a senseof firm faith in the living God. They organized informal gatherings at differentplaces for fellowship, prayer and worship. They sang Malayalam hymns and oftenconcluded the gatherings with Prayer and benediction.
In the early 1940's the death of Mr. K V Cherian , an employee of MilitaryEngineering Service of the Southern command and consequent problem inconducting funeral service according to Christian rites gave a momentum for theneed of an organized gathering. This incident paved the way for forming aMalayalam Christian Congregation in Pune. The floating population becameconvinced of the need for formal worship under the guidance of an ordained Priest.Thus on 7th Jan 1943 under the leadership of Mr. V I Jacob, a Marthomite and anemployee of Audit department, the Malayalam Christian Ecumenical congregationcame into existence incorporating all Christians belonging to the Mar ThomaChurch and other Episcopal churches. Rev. W Q Lash, Acharya of CPSS Ashram(Christa Prema Seva Sang), Shivaji Nagar volunteered as the Vicar of ChristianCongregation. This arrangement had the approval and blessings of Most. Rev. Dr.Abraham Marthoma Metropolitan of the Mar Thoma Syrian Church. Rev. W QLash celebrated the Holy Qurbana on selected Sundays according to Anglican andEastern liturgies at St. Paul's Church, Pune. Hymns and songs were sung inMalayalam and scriptures readings were also in Malayalam sometimes. Functionslike Harvest festival, Christmas celebrations etc were conducted in CPSS Ashramwhich was the central place for public gatherings.
Rev. Lash had to leave Pune in 1947 on his elevation as Bishop of Bombay.Subsequently Acharyas of CPSS Ashram and other Priests who came as MilitaryChaplains gave leadership to the infant Malayalam congregation until 1948. Theyare Rev. Lazar, Rev. W H Satchell, Rev. W G Jeffroy and Rev. K P Abraham.
As the members belonging to various denominations increased considerably in andaround Pune, it was decided to avail the services of one Achen from parent churchin Kerala of each denomination for a period of six months or one year. In 1949Rev. T M Mathai (Punnathundiyil Achen) a Mar Thoma Priest as well as a MilitaryChaplain, was appointed as Priest in charge of the Pune Malayalam Congregation.
As years passed by, the members belonging to various Christian denominationsincreased considerably in and around Pune and the need of separate services foreach denomination was felt. Thus in 1951 during the visit of Most Rev. YuhanonMar Thoma Metropolitan, the existing Malayalam congregation was recognized asthe Mar Thoma Congregation which subsequently gained the status of a MarThoma Parish and Rev. T M Mathai became the first priest of Poona Mar ThomaParish. Rev. W Q Lash, Bishop of Bombay graciously gave permission to conductthe Mar Thoma worship services at St. Mary's Church, Pune. Rev. K C Thomaswas posted as Vicar of the Parish. He also conducted another service at Kirkee forthe convenience of the members residing there. Thus two services for theMarthomites were initiated, one at St. Mary's Church, Pune and another at the AllSaints Church, Kirkee. In 1953 Rev. M P Kurien took charge as Parish Priestfollowed by Rev. George Varghese (Chunakkara Achen), Rev. C M Thomas, Rev. PC Joseph, Rev. P V Thomas, Rev. K Abraham (Shastri Achen).
The increase in membership of Marthomites in Pune and Kirkee necessitated theformation of another independent Mar Thoma Church at Kirkee. The general bodymeeting held on 29th Jan 1967 presided by Rt. Rev. Philipose Mar ChrysostomDiocesan Bishop, decided to approve the Kirkee Gathering as an independentParish as of 5th Feb 1967. The existing Parish, Pune was named as St. Peter's MarThoma Church and the Kirkee congregation was named as St. John's Mar ThomaChurch. Rev. K G Chacko, the then Vicar of St. Peter's Church Pune was entrustedthe additional charge of Kirkee Parish. Rev. Ipe Joseph had the privilege of beingthe first full time Vicar of St Peters Church. Under the leadership of Achen, thefounder members together purchased a piece of land at Wanowrie for theconstruction of own church on 15th Oct 1968.
On 23rd Oct 1977 Rt. Rev. Dr. Philipose Mar Chrysostom Epicopa, the DiocesanBishop laid down the foundation stone for the construction of the Church .Work forthe church was delayed as there was no approach road to our Church plot. The parish acknowledges with gratitude to our member Mr. T. C Benjamin (IAS), forhis timely support, guidance and advice in obtaining approach road to our churchplot, which was the stumbling block for more than four decades for construction ofthe church. Work started at the plot on 18th Jan 2007 with blessing of Rt. Rev.Joseph Mar Barnabas Episcopa.
By the Grace of Almighty God and whole hearted cooperation and generouscontribution of our parish members, construction of the new church could becompleted in 2009. The new church was consecrated on 24th Oct 2009 by Rt. Rev.Dr. Abraham Mar Paulos Episcopa (Our Diocesan Bishop).